LS SureShot™ 15" Bi-directional Direct Drive Blast Wheel
Product Overview
The LS SureShot™ Bi-directional Drive Blast Wheel is designed for long life, optimum performance, versatility and simple maintenance.
Why Choose LS Industries?
Customer Service
Global Network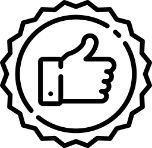 Warranty on all work
Questions? Ask an expert.
Our sales staff are ready to help!
800-835-0218
Features
The advanced design of the SureShot wheel includes new materials and manufacturing processes. Blades are made of a chromium/molybdenum alloy increasing life of the parts. With a secondary heat-treatment the parts wear characteristics exceed comparable wheels by over 200%. Balanced blade sets and precision-machined wheel parts compliment long life and increase production.
With 2 widths of control cages available, the blast pattern can be set to most effectively blast customer's parts.
The wheel is a bi-directional and has the ability to throw abrasives clockwise or counter-clockwise. The eight blades are symmetric and do not require additional blades for reversing directions. Meaning fewer parts on the shelf. The blades are a quick release design allowing for ease of maintenance.
When fully assembled the total blast wheel diameter is 15"
The LS impeller is capable of throwing abrasive at 290 feet per second. The LS SureShot wheels deliver unequaled abrasive concentration across the work for faster, more even cleaning with less wheel wear. This performance means faster production rates.
Optional variable frequency drive allows the blast wheel to be tuned to meet customer's blasting and finish requirements.
Technical Specifications
Overall Dimensions (L x W x H)
25″ x 10″ x 17″
Blade Size (L x W)
4.5″ x 3″
No. of Blades
8
Wheel Speed (RPM)
3600