6-RTB Rubber Tumbler Blaster
Product Overview
The LS Industries rubber tumbler blaster is designed to clean parts with shot blast media while gently tumbling the parts to ensure no damage is caused to the part. The wear plates and drum plates are constructed of manganese for an extra-long life. The TurboShot™ blast wheel provides an even blast with high velocity bi-directional blades. The robust design has easy quick-change blades for simplified maintenance.
Why Choose LS Industries?
Customer Service
Global Network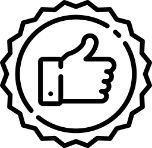 Warranty on all work
Questions? Ask an expert.
Our sales staff are ready to help!
800-835-0218
Features
Side Air Wash
Optional
Shot Hopper with Shot Level Sensor
Optional
Pneumatic Door**
Optional
Automatic Loader/Unloader
Optional
Variable Frequency Drive for Blast Wheels
Optional
Additional Features:
*Optional automated loading and unloading
*Optional pneumatic door
*Optional air blast nozzle
Technical Specifications
Work Envelope (Cubic Foot)
6cf
Overall Dimensions
6'6″ x 8'6″ x 10'6″
HP of Blast Wheels (STD)*
1ea x 15HP
Load Capacity (lbs)
700lbs
Dust Collector Std**
DCC-5 (5HP)