Product Overview
The Cement Form Blaster removes cement buildup and residue. Forms are easier to assemble and handle when clean and without the extra weight of cement. The uniform profile makes attractive final cement products. This blaster also has the LS TurboShot™ Blast Wheel design for high-volume, bi-directional, medium velocity blast wheels. The robust design has quick blade change technology and easy maintenance.
Why Choose LS Industries?
Customer Service
Global Network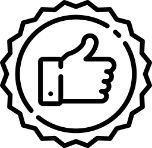 Warranty on all work
Questions? Ask an expert.
Our sales staff are ready to help!
800-835-0218
Features
Full Upper Air Wash
Yes
Automatic Shot Adder
Optional
Elevator Jam Auto Shutdown
Yes
Parts Sensor
Optional
Shot Hopper with High/Low Shot Sensor
Optional
Dual Elevator System
Optional
Parts Blow Off
Optional
Maintenance/Service Platform
Optional
Technical Specifications
Work Envelope
48″W x 24″H
Overall Dimensions (L x W x H)
36′ x 8'6″ x 19'1″
No. of Blast Wheels (STD)*
4ea x 25HP
Conveyor Roller Spacing (STD)
24″
Conveyor Rolling Height (STD)
42″