LS-28-MBM Steel Belt Blaster
Product Overview
The LS Industries Manganese Belt Blaster is the most versatile machine on the market designed to clean anything that can fit inside the work envelope. The belt is made of heavy-duty, wear-resistant manganese linked chain belt. The SureShot™ blast wheels are set in an 'X' pattern to allow cleaning of leading and trailing surfaces. The belt operates with a variable speed drive in order to control the part throughput speed. The blast zone is also constructed of wear-resistant manganese and easily replaceable manganese wear plates. LS provides several maintenance features like multiple access doors, quick-change blades, and roller bearing protection. LS protects the life of the machine by including zero speed sensors and parts sensors so that it only blasts when parts are present in the blast zone.
Why Choose LS Industries?
Customer Service
Global Network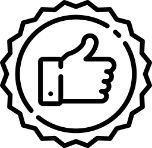 Warranty on all work
Questions? Ask an expert.
Our sales staff are ready to help!
800-835-0218