LSBH-76×35 Fixtured Basket Blasters
Product Overview
The LSBH-76×35 has a versatile jigging basket that is 76 inches long and 35 inches in diameter allowing for a wide variety of product blasting possibilities. The replaceable manganese cabinet liners will make the machine endure a long blasting life and be easy to maintain for many years. The simple operation with adjustable cycle times will improve production time and won't require extensive training. Dual hand controls and a door locking valve that prevents the door from closing in the event of air pressure loss will keep the operator safe. The LS TurboShot™ blast wheel is belt driven to protect the motor and make it easy to maintain. The blades on the LS TurboShot™ wheel are bi-directional allowing for reversing blasting for an all angle clean.
Why Choose LS Industries?
Customer Service
Global Network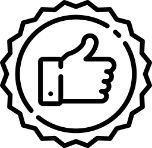 Warranty on all work
Questions? Ask an expert.
Our sales staff are ready to help!
800-835-0218
Features
All steel frame and cabinet construction with structural steel base
Reversing impeller wheels for thorough cleaning
Door safety interlock switch
Basket bearings: heavy-duty four bolt flange, Superior bearing protection
Forklift moving support built into blaster
Sealed bearings with grease fittings
Automatic timer with adjustable time settings
Load basket from top or front
Analog shot indicating ammeters
Technical Specifications
Basket Dimension
76"L x 35" diameter
Work Space
70" x 30.25" diameter
Overall Dimensions
101″ x 58″ x 145″
HP of Blast Wheels (STD)*
2ea x 10HP
Basket HP (STD)
1HP (0.75 kw)
Basket Weight Capacity (Approx)
1000lbs
Dust Collector Std**
DC-3 (5HP)