LSE-20 Batch Cylinder Shot Blaster
Product Overview
The LSE-20 Cylinder Shot Blaster is the most economical shot blaster on the market for cleaning cylinders 20" in diameter and up to 68" long. The robust design of the LS Industries design includes easily replaceable wear liners in the cabinet for a long machine life. It is also designed to ease the material handling with a lift table to raise and lower the cylinders. The LS TurboShot™ Blast Wheel throws a high-volume of shot with a bi-directional blade. The belt-driven wheel is a robust design that is easy to maintain.
Why Choose LS Industries?
Customer Service
Global Network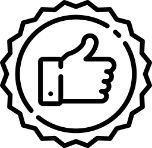 Warranty on all work
Questions? Ask an expert.
Our sales staff are ready to help!
800-835-0218
Features
Load Lift Table
Yes
Unload Kicker
Yes (Manual)
Pneumatic Door
Yes
Technical Specifications
Work Envelope (Cylinder Size)
20″ Dia x 68″ L
Overall Dimensions
100″ x 61″ x 80″
HP of Blast Wheels (STD)*
2 x 10HP
Dust Collector Std**
DC-3