Product Overview
The LS Industries LSW-PWX-SS Hand Washer is a stainless steel high pressure hand washer. This machine is designed to clean difficult projects in a quick and efficient manner. The washer is operated with a foot pedal, while your hands are inside the gloves that enter the sealed cabinet. An automatic windshield wiper keeps the part visible while the washer is in operation.
Why Choose LS Industries?
Customer Service
Global Network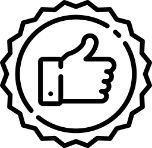 Warranty on all work
Questions? Ask an expert.
Our sales staff are ready to help!
800-835-0218
Features
Pressure Regulating Valves
Standard
Manometer
Standard
Foot Switch
Standard
High Pressure Water Gun
Standard
Stainless Steel Filter Basket
Standard
Air Gun for Drying
Standard
Interior Lighting
Standard
Air Jet Cleaning Windows
Standard
Technical Specifications
Dimensions of Working Area
44″ x 22″ (800mm x 5500mm)
Loading Height of Part
32″ (800mm)
Loading Capacity
150lbs. (70kg)
Tank Capacity
18 gal.
Pump Capacity
3.0 Hp
Pump Flow (Lt/Min)
3.7 gal 140 Lt/Min
Heater
7.5 kW
Electric
230v/3ph/60Hz
Heater
4.5kW
Air Supply (bar)
100 Psi
Temperature
0-122 degrees F (0-50 degrees C)