Product Overview
Whether you are adding a new product handling monorail to your facility or you already home something in place we can design the 48×120 Monorail blaster to work for your needs. Items hanging in the blast zone are blasted by the SureShot™ blast wheel in an 'X' pattern, ensuring that all sides are blasted. The monorail variable speed drive allows you to adjust the travel speed of your parts through the blast zone to get the proper blasted finish based on the condition of the parts. The blast cabinet is constructed of heavy-duty manganese with replaceable manganese wear plates. Additional elements that make LS Industries machines easier to maintain are the multiple access doors located at the elevator, the augers and the blast zone. Also note, it is not necessary to put the blaster into a pit but it can be done to accommodate the monorail line.
Why Choose LS Industries?
Customer Service
Global Network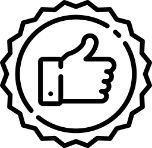 Warranty on all work
Questions? Ask an expert.
Our sales staff are ready to help!
800-835-0218
Features
Full Upper Air Wash
Optional
Medium Size Air Wash
Yes
Automatic Shot Adder
Yes
Elevator Jam Shutdown
Yes
Parts Sensor
Yes
Shot Hopper with High/Low Shot Sensor
Optional
Heavy Duty Urethane Flaps in Blast Zone
Yes
Parts Blow Off**
Optional
Monorail Conveyor
Optional
Maintenance/Service Platform
Optional
Dual Elevator System
Optional
Technical Specifications
Work Envelope
48″W x 120″H
Overall Dimensions
30′ x 19′ x 19′
No. of Blast Wheels (STD)*
8ea x 30HP
Dust Collector***
DCC-40-A