Product Overview
The OD Pipe Blaster PB2-12 is designed to blast the outside surface of pipe from 2" to 12" in diameter.  The LS TurboShot™ blast wheels are gravity fed which keeps the machine compact and easy to maintain. The underthrow blast wheels maintain the same distance to the pipe and the shot pattern is concentrated directly to produce an even blasted surface on the pipe. The shot is contained in the machine with drop in curtains.
Why Choose LS Industries?
Customer Service
Global Network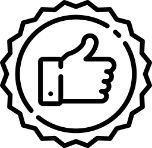 Warranty on all work
Questions? Ask an expert.
Our sales staff are ready to help!
800-835-0218
Features
Automatic Shot Adder
Optional
Parts Sensor
Optional
Changeable Flap for Different Size Pipes
Optional
Extension Conveyors
Optional
Load Table
Optional
Unload Table
Optional
Automatic Indexers
Optional
Technical Specifications
Work Envelope (Pipe Diameter Min/Max)
2″-12″
Overall Dimensions
14′ x 5'6″ x 7'8″
No. of Blast Wheels (STD)*
2ea x 20HP
Conveyor Roller Spacing (STD)
36″
Conveyor Height (STD)
46″
Dust Collector***
DCC-5