Product Overview
The LS Industries PCXG Powder Coating Spray Gun is an available component of the full LS Industries Rim Line. It is intended to be used with the Powder Coating Booth and the IR-600 or IR-900 Infrared Oven.
Why Choose LS Industries?
Customer Service
Global Network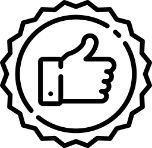 Warranty on all work
Questions? Ask an expert.
Our sales staff are ready to help!
800-835-0218
Features
Power Range
220V / 110V
Frequency
60 HZ
Temperature Range in Use
15° F to 122° F
Maximum compressed-air consumption
7.76 CFM
Powder Hopper
13.62 gal (60L) capacity
Also available with a box feeder
Box Feeder
Optional
Technical Specifications
Powder Gun
Gun Weight
1 lb.
Rated output voltage
24 VDC
Input Voltage
200KV
Maximum Output Current
180uA
Minimum Output voltage
0-100 KV (adjustable) Maximum Powder
Injection
600 g/min
Polarity
Negative (-)