SH2442 Spinner Hanger Blaster
Product Overview
The LS SH2442 Spinner Hanger Blaster has a blast zone that is 24" wide by 42" tall. A spinner hanger blaster allows you to hang the product to be blasted for a 360-degree blast. The machine has a compact design with a heavy-duty manganese cabinet and replaceable cast chrome wear liners. The LS SureShot™ blast wheels throw a high volume of shot at a medium speed to produce a thorough clean.
Why Choose LS Industries?
Customer Service
Global Network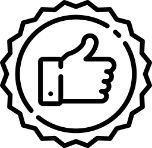 Warranty on all work
Questions? Ask an expert.
Our sales staff are ready to help!
800-835-0218
Features
Air Wash
Optional
Parts Tree
Optional
Elevator Jam Sensor
Optional
VFD on Blast Wheels
Optional
Technical Specifications
Work Envelope
24″D x 42″H
Overall Dimensions
8′ x 8'6 x 12′
No. of Blast Wheels (STD)*
2ea x 10HP
Table Loading Height
30″
Dust Collector**
DCC-5