Product Overview
Vertical Stone Blasters have custom material handling for vertical loading and no shot blow off is required. The Vertical Blaster has a custom state-of-the-art shot cleaning and purification system.This blaster also has LS SureShot™ Blast Wheel design for medium-volume, bi-directional, medium velocity blast wheels. The robust design has quick blade change technology and easy maintenance and direct drive compact assembly. The machine includes a dual elevator and adjustable air wash system. The first elevator and adjustable air wash will remove large dust and fines from the shot and the second elevator and air wash provides a final cleaning of dust from the abrasive media. The dual elevator design keeps the air wash close to floor for easy adjustment.
Why Choose LS Industries?
Customer Service
Global Network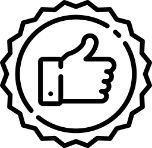 Warranty on all work
Questions? Ask an expert.
Our sales staff are ready to help!
800-835-0218
Features
Full Air Wash
Standard
Automatic Shot Adder
Standard
Elevator Jam Auto Shutdown
Standard
Parts Sensor
Standard
Shot Hopper with High/Low Shot Sensor
Standard
Dual Elevator System
Standard
Parts Blow Off
Optional
Maintenance/Service Platform
Optional
Technical Specifications
Work Envelope
24″W x 72″H
Overall Dimensions (L x W x H)
17′ x 23'6″ x 16′
No. of Blast Wheels (STD)*
2ea x 20HP
Conveyor Roller Spacing (STD)
5″
Conveyor Rolling Height (STD)
27.5″ (inclined at 75deg)
Dust Collector***
DCC-40-A