Phillip Enegren
June 30, 1942 – December 5, 2020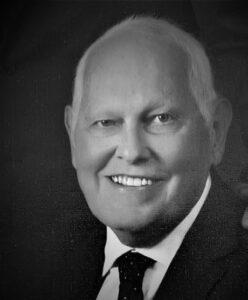 Wichita, Kansas – Phillip Dean Enegren, 78, was born in Wichita, KS to Vivian (Kuhns) Wilson and Paul Enegren. He passed away peacefully at home on December 5, surrounded by loving family. Phil grew up on a farm near Ashland, KS, and graduated from Ashland High School in 1960. While in high school, his math teacher Ken Swanson recognized Phil's giftedness in mathematics, and mentored him, urging him to seek further education. Phil attended Kansas State University on an academic scholarship where he earned a Bachelor of Science degree in mechanical engineering in 1964, graduating at the top of his class. While at K-State he was a founding member of a chapter of Triangle Engineering Fraternity. He earned a Master of Business Administration degree from Purdue University in 1965. After working in California and abroad, he returned to Wichita to enter the field of manufacturing. In 1977 he founded L.S. Industries, a local manufacturing company that produces heavy equipment.
Phil and his wife of 46 years, Linda Weir-Enegren, built a large family through birth and adoption. His greatest joy and his legacy, was his family. The family home was on a pond, and winters brought great adventures on the ice with Phil leading the way. He taught children and grandchildren ice skating and "ultimate sledding" at home, and skiing from the earliest ages on family trips. He cared little to not at all about material goods and had an adventurous spirit, crisscrossing the globe with his family for business and leisure. There were many adventures across six continents (and misadventures in the days before map apps).
Over the years he received much recognition for his generous heart and compassion, which were felt by all who knew him. He was honored with the Donna E. Sweet Humanitarian of the Year Award through the University of Kansas School of Medicine in 2015. A particular business trip to China found him in a stranger's residence, sleeves rolled up, using improvised tools to repair an outdated wheelchair for a disabled young man, whose plight had come to Phil's attention in passing. In the business meetings the next day, the translator told them that Phil's kind act had changed their perception of American businessmen.
To see Phil for five minutes was to see Phil. His genuine kindness was constant; he was as courteous to an agitated child as he was to his best customer. A friend who worked with him said, "On a regular basis I saw Phil do for strangers what most people wouldn't do for blood." Neighborhood kids knew him as the "calm dad" and called on him to resolve their sticky situations. He always had a jar of candy to share, an ear to listen, and a shoulder to lean on. Not infrequently, Phil could be seen passing by the freezer for a spoonful of ice cream.
Preceded in death by his parents, sister Phyllis Newby, brothers John Wilson and Samuel Enegren, daughter Faith Campbell-Cox, son Pedro Benavides-Enegren, and daughter-in-law Carolina Enegren.
Survived by spouse Linda Weir-Enegren, children Mark Enegren of Coeur d'Alene, ID; Amanda Enegren, Paul Enegren (Yeni), Joy Morton (Jake), and daughter-in-law Beverly Benker of Wichita; Ken Enegren of Tulsa; Sasha Enegren (James Massol) of New York City; Michelle Foster (Matt) of Mountain Home, ID; grandchildren Caleb Morton, Melanie Morton, Naomi Morton, Rodrigo Enegren, Phillip Enegren, Nicolas Enegren, Dominic Benavides, and Linda-Paulina Enegren of Wichita; Emilia Enegren-Massol and Andre Enegren-Massol of New York City; sister Barbara Miller of Sacramento,CA; brother Dennis Enegren of Huntsville, AL; and many cousins, nieces, nephews, and in-laws.
Phil was a member of First United Methodist Church, Triangle Fraternity, the President's Clubs at Kansas State University and Wichita State University, and an ardent supporter of Rainbows United. A memorial service will be held in the summer of 2021 when it is safe to be together to celebrate his beautiful life. A memorial has been established with Rainbows United.